Pobuzhsky Ferronickel Plant will introduce teenagers to the future of the mining industry in an easy-to-understand, fun way over Instagram and YouTube.

Solway Investent Group and Pobuzhsky Ferronickel Plant (PFP) are constantly working to improve their existing educational programs for young people, as well as to develop new projects aimed at introducing the modern mining industry as a potential future profession to new generations.
In September 2020, PFP launched an interactive project, PICh (ПИЧ), which is currently being tested. The project's main goal is to introduce teenagers to the career opportunities which the mining industry offers to the next generation. PICh ideally hopes to increase the percentage of schoolchildren who will select technical or specialized disciplines of study in the future.
The choice of interactive communication with teenagers derived from the quarantine. The coronavirus pandemic has taught us all that the old system of vocational education requires new approaches. Online education is more important than ever, therefore PFP decided to launch its program by reaching schoolchildren over social media.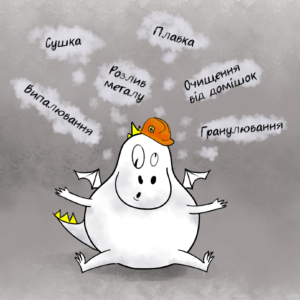 "We are fully aware that the mining industry is not currently an attractive sector as young adults think about their future career paths. This is driven by the common stereotype of metallurgy, which is imagined as a physically challenging profession "for real men". Little is known about what modern metallurgy actually looks like. The world is changing: the industry must meet new, high technology requirements, production processes are more often automated, and there is strong demand for professions such as ecologists, programmers, and bioengineers.
We are working to ensure that the products we produce would allow humanity to build spaceships, develop medical technologies, and produce clean energy. PICh will introduce teens to how the industry looks today, the opportunities it offers in the modern world, and what professional skills will be in demand in the future.
The project is an interactive platform based on Instagram, supported by a YouTube channel. The Instagram handle is @pitch.prjct. Specialists in extended education participated in the project's development, as well as a focus group of schoolchildren aged 12-15 who helped PICh's creators define the most efficient communication channels and means of delivering information and topics which would appeal to teens in this age group. As a result, it was decided to conduct a dialogue with users through the animated dragon, Ferro. Ferro teaches about complex processes in simple and easy-to-understand language. According to the legend, Ferro the dragon lives in a metallurgic plant, knows all technological processes from the inside, can ask tricky questions, destroy myths, and come to the rescue, if needed.
Over time, the creators plan to add interactive tours through modern smelting plants like PFP, training through online games, quests in physics, chemistry, mathematics and metallurgy, and much more.
"We hope that the PICh will become the start of a systematic project aimed at the career orientation of young adults. We are open to cooperation and are happy to enter into partnerships with educational institutions and programs. We are keen to train young professionals whose knowledge could also be applied to metallurgy," added PFP CEO, Denis Shevchenko, about the project's future plans.